A WhatsApp conversation on 24th June, 2020 (1:34pm-2:29pm) between Adam Jones and Igor Termenón.
All the photographs are courtesy of Adam Jones.
If it wasn't for the current pandemic and travel restrictions, I'd probably be having this conversation with Welsh designer Adam Jones at one of his favourite pubs in London. Instead, we start our chat on WhatsApp right after Adam has broken his sewing machine whilst making one of his upcycled pieces from beer towels – a found material that he has made his own and that really grabbed my attention the first time I saw his designs on London-based store 50m's website.

After asking if his sewing machine can be fixed, we start talking about early fashion memories, being inspired by his grandma, the struggles of being an emerging fashion designer in London and how the British pub has become the central theme in his designs.

Adam's choice is a lager, mine an IPA – the clinking beer mugs emoji will have to do for now 🍻. Cheers!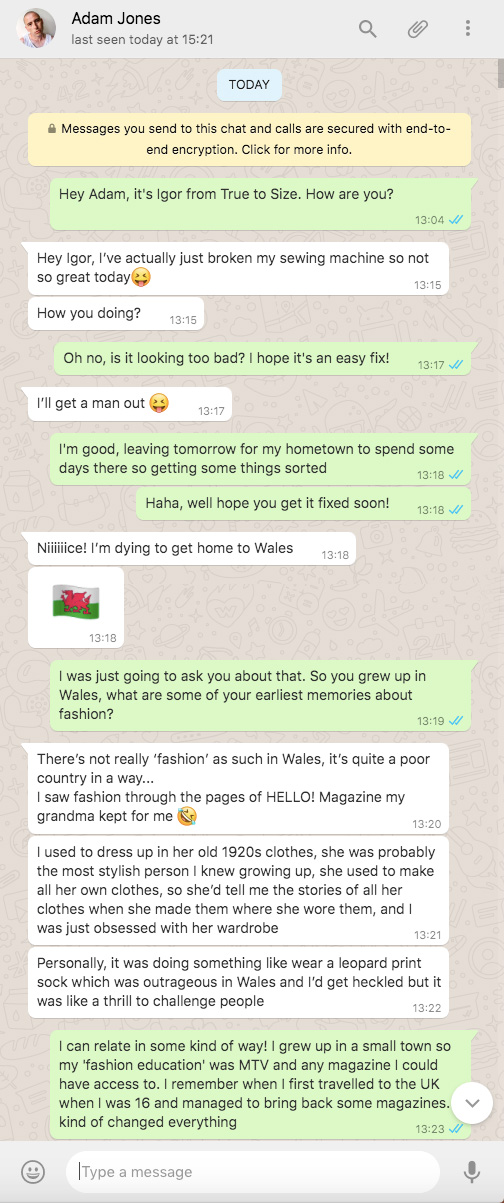 Bitter or lager? No matter your taste in beer, there's an Adam Jones vest for you

Adam Jones' Favourite Pubs in London

Adam poses with one of his designs and his flat/studio in London
Lots and lots of beer towels waiting to be transformed into garments, like the scarf shown on the right

The beer mat takes a different function in the appliqué top shown on the left. On the right image, another Tetley Bitter vest photographed at Adam's studio