The work of maker and craftswoman Iseabal Hendry takes direct inspiration from the traditional crafts she grew up with. Boatbuilding, roof thatching or woodwork might not be conventional activities for kids but, growing up in the Scottish Highlands and learning about materials from a young age – her father used to work in the leather industry and rebuilt, for the most part, an old school house where she was raised – have influenced Iseabal's modern take on weaving.

After three years of research and preparation, Iseabal took the leap and quit her job to go freelance and find more time to focus on her bags and accessories label. Six weeks later, lockdown came into place in the UK and she lost all of her work. An unfortunate circumstance that acted as a catalyst for Iseabal to "apply to a thing a week" in order to keep busy and motivated.
Backed by Creative Scotland (a public body that supports the arts, screen and creative industries across Scotland) and RBS 'Back her Business' initiative (a program by Royal Bank of Scotland to help close the gender gap in business), Iseabal has recently launched her first collection. Working on a pre-order model to ensure there's no waste, her designs are handmade by Iseabal herself using materials sourced within Europe – "right down to the backing fabric!". The vegetable tanned leather is sourced from a family-run tannery in Italy which uses raw hides from Scandinavia and has been working with leather since the early 20th century, the cotton is woven in Scotland on looms over 100 years old and even the paper used for the label's packaging and branding is made of discarded leather cut offs.

This attention to detail is also present in Iseabal's research process and inspiration. The landscapes of the Scottish Highlands, the crafts culture and heritage, and the skills she learnt from her father all come into play in her work. Here, she dissects those inspirations and reflects on everything else that has influenced the conception of her brand.
All images provided by Iseabal Hendry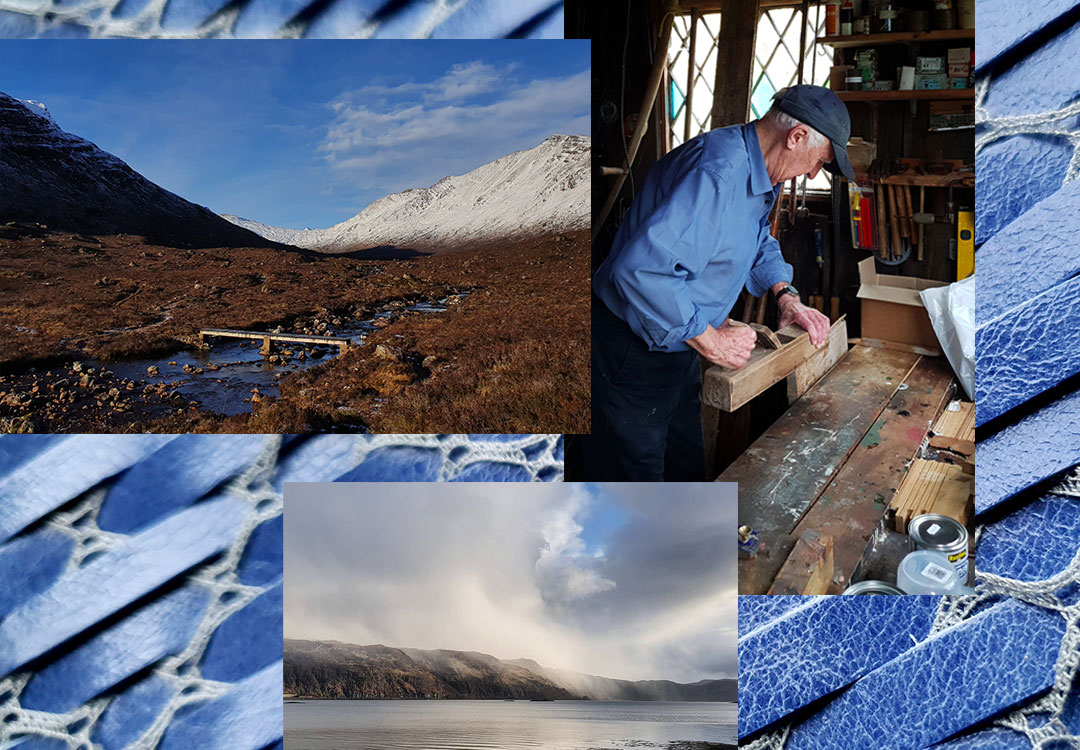 "I started working with leather in 2013 after a sustainability project between the Glasgow School of Art and Bridge of Weir Leather. Using scrap offcuts of leather, I cut thin strips and twisted, pleated and weaved them together to create larger pieces. My objective was to use every centimetre of the hide, ensuring next to no wastage, which is the same method I use today. I naturally found a real affinity with leather – this was in no small part because I'd grown up with a real respect for the material, as my dad had worked in the leather industry when he was my age. I went to see a basketry exhibition in Skye, near where I grew up, shortly before starting my final collection and was so inspired by the unusual and innovative forms that could be created, even when using such traditional techniques."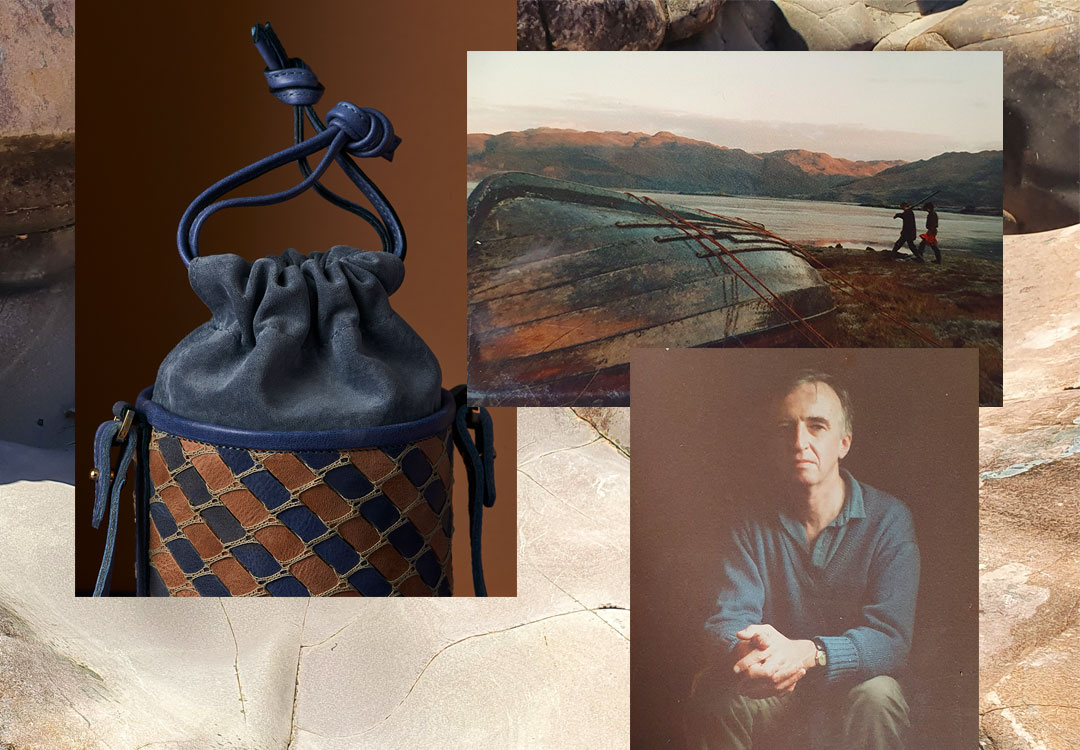 "I grew up in an old school house which my dad had bought as a near ruin in the early 1980s and rebuilt for the most part himself. All of our bookshelves, tables and even the mezzanine balcony in the big, open schoolroom were built by him. I even had my own wee red saw to go out and help him while my brother was at school (I later found out this was a 'floor saw' but to my five year old eyes it was a wee one just for me!). When we did buy pre-made furniture it was always my job to assemble it, something I relished. I guess I've always loved making."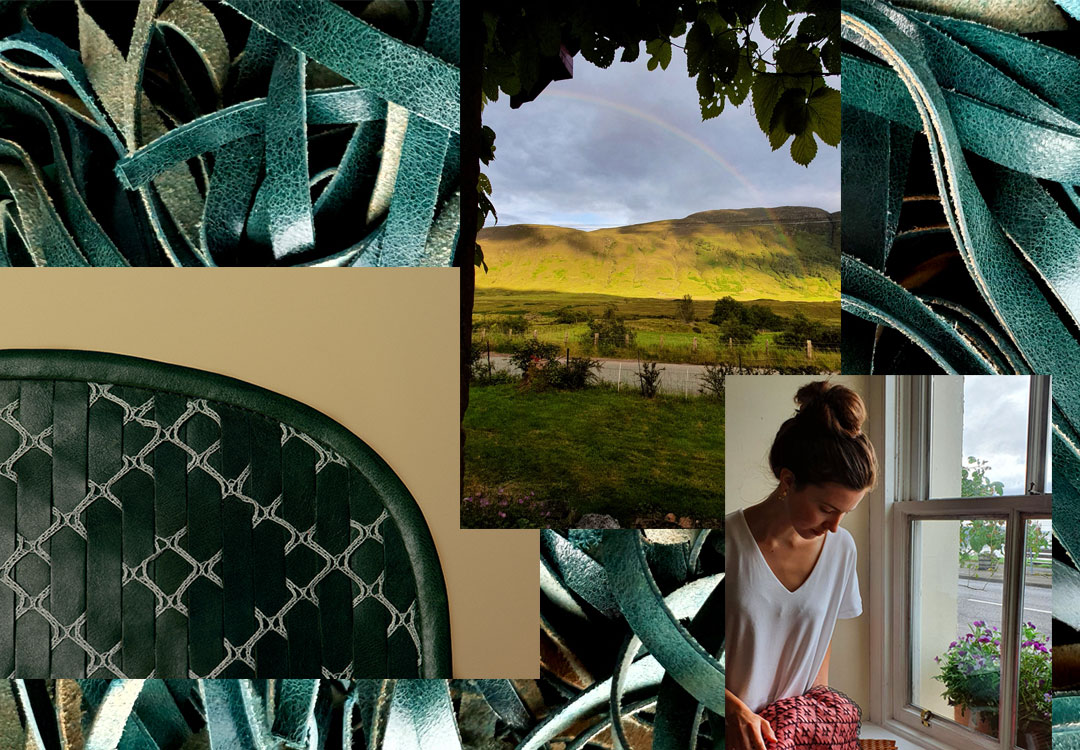 "I find it difficult to articulate how the Highlands inspire me. Unlike many artists who live or move up here to literally translate the landscape into their work, I'm inspired in a much more abstract way. It's a huge part of who I am and I don't think I'd be creating what I do had I not grown up in the Highlands. The light, the transition of seasons and colours are some of my favourite things in the world. In a similar way, vegetable tanned leather also changes, deepens or softens over time. Most importantly though, I get perspective from my landscape. When I'm running or walking in the hills I remember what's important and it grounds me. It is the greatest joy to create my work in my favourite place in the whole world and to know why I'm doing it, and why it matters. And if ever I forget that, I go out into the hills."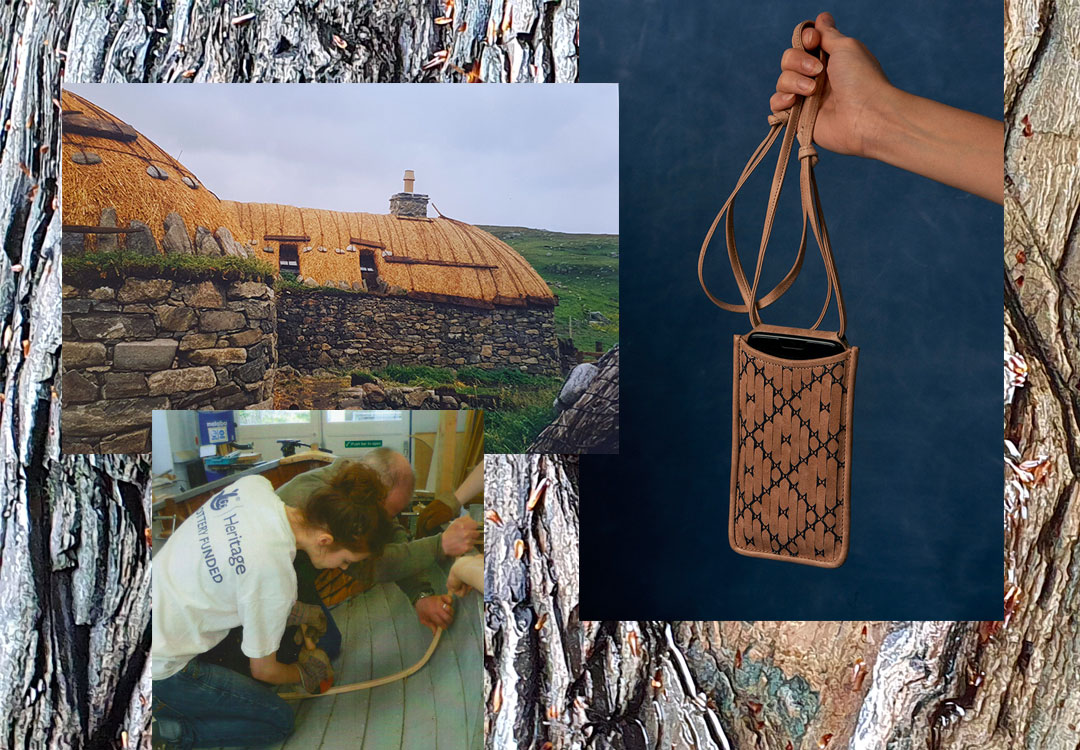 "The connection a maker has with their material is to me what defines craft and therefore working, building and creating with your own hands is the very essence of it. While a lot of my peers were experimenting with digital innovations and techniques, I found my inspiration from traditional skills that I'd been surrounded by growing up – alongside basketry one of my starting points was the roof thatched houses we stayed in every summer when I was wee. We never went far from home for our holidays and so the landscapes of Uist, Harris and Lewis are deeply ingrained in me. I was lucky enough to do a years course in traditional boatbuilding when I was 17 and while learning traditional craftsmanship skills, I furthered my love for the slow, methodical and hands-on approach to making."