Many of Juliana Gogol's childhood memories revolve around arts and crafts at her hometown – a little suburb just outside of Kansas City. From summers at camp spent weaving baskets and birthday parties at the local ceramic studio to Saturday mornings knitting shawls for people in hospice care or after-school jobs hemming pants and dresses at the tailoring shop down the street.
Juliana moved to New York for school and recently graduated from the Pratt Institute of Art and Design. Looking back at those childhood memories, Juliana says "it should come as no surprise to me that so much of my creative practice is about slow, methodical processes like hand-weaving, knitting, and sewing – crafting for crafting's sake."
Often inspired by concepts and objects related to feelings of warmth and nostalgia – her childhood bed, overstuffed upholstered furniture or memories of driving down the long winding highways of her hometown – Juliana hopes that the wearer of her clothing can be instilled with a sense of cosiness and feeling at home. Here, she talks about these and the other inspirations behind her work.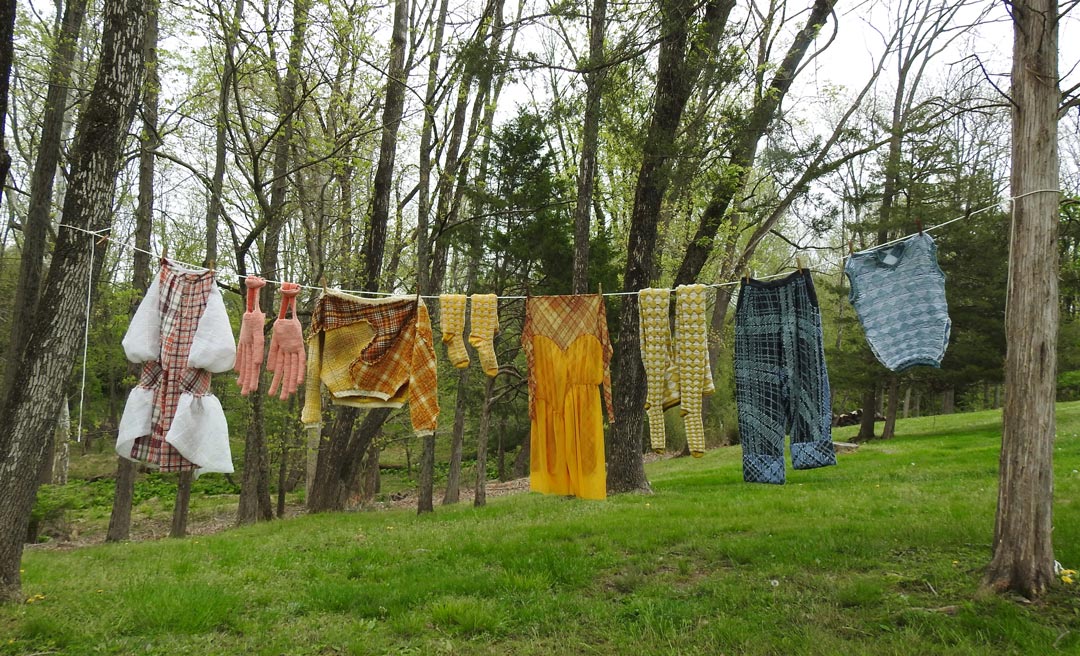 All images provided by Juliana Gogol
Liminal Spaces
"Liminal spaces are essentially in-between places, where people aren't supposed to spend a lot of time: doctors' waiting rooms, trains and planes, rest stops, elevators. In some ways, I felt like being in college was a liminal space in the emotional and mental sense: everything was in transition. I was constantly flying back and forth between my hometown and my college campus, neither of which truly felt like "home" because how could they be when I had to keep switching between the two depending on the time of year? It was my last stop before the great unknown of adulthood, and that uncertainty inspired a lot of my undergraduate work. And now that I'm supposedly out of that space, do I feel more sure of myself? Of course not, especially with the current state of the world. But at least I'm figuring it out."
Music
"I can't think of one single thing that has a bigger influence on the kind of work I make more than music. For every project, I have to create a playlist to set the mood – without it I'm hopeless and don't even know where to start. Listening to old music is a great way to get in touch with the sense of nostalgia, history, and lineage that tends to color so much of my work. It really is the most effective form of art, and you don't even need your eyes to experience it. It's that magical convening of the artist's vocal performance, the backing production, and lyrics that can lay bare the most unique and hard-to-put-into-words emotion. And then if they can do a really great music video to go with the song, it's five times as effective! From Phoebe Bridgers to Tierra Whack to Lorde, all my favorite artists have this uncanny ability to make a perfect song even better by adding wonderfully evocative visuals. If a picture is worth a thousand words, then a moving picture set to a great song can convey five thousand. It's my dream to have some of my work be featured in an artist's music video someday."
Maps & Locations
"As someone who has to use spatial reasoning and visualization a lot, like when I'm making patterns for a garment, I find maps really fascinating. There's something so mathematical about it, and I've always loved math as well – but some things you can't just make square and put in a box. Every city planner from the beginning of time has tried to make sense of where they lived by drawing straight lines and grids on it, miles and miles of rectangular city blocks, but then their perfect little grid eventually gets interrupted by a river, a mountain range, an irregular shaped coastline. It's so weird that we as humans have tried to put the whole world into gridded streets when we live on blob-shaped land masses on top of a spherical planet. It's a good reminder that sometimes I have to work with my mistakes or irregularities in my work, instead of trying to cover them up."
Designer Charles James
"My first trip to New York, I saw the Met costume exhibit on Charles James. He was this great couturier, almost like an engineer or architect except he used fabric instead of bricks and cement. At this exhibit, they had videos for all the gowns on display that showed how each one was made, with layers on layers of underpinnings and wire structures and boning to sculpt the gowns into shape. Despite the organic and body-contouring shapes of James's pieces, the seams are precise, linear, and almost geometric in nature. This kind of exact precision in pattern-cutting will always impress me, especially when the result is so visually magnificent."
Architecture of New York
"Speaking as someone who grew up in a place where buildings were more spread out – when I first moved to Brooklyn I became obsessed with the style of buildings here. Of course in Manhattan there are the big impressive Art Deco buildings and modern skyscrapers, but there's something about seeing all these residential three-story brownstones at street level pushed up together, with the roofs not quite lining up and all the different brick textures juxtaposed against each other. I suppose it's a relic of when fewer people lived here, and as the city grew in size they had to keep adding more and more buildings until there was no more space between them. I used to hate patterns in clothing, and especially mismatched print-on-print, but I think living here and seeing how beautiful it can be in architecture has made me a believer."