The pair of jeans folded and hidden at the back of your closet, the top with the tag still on or the formal shirt you can't quite find an occasion for – why have we never worn some of the clothes we own? 'Never Worn' explores impulsive buying one garment at a time, as told by its owners. No judging or shaming, but a way to understand this behaviour and, together, make more conscious future decisions.
If you'd also like to share the story behind that garment you've never worn, drop us an email at hello@fitstruetosize.com!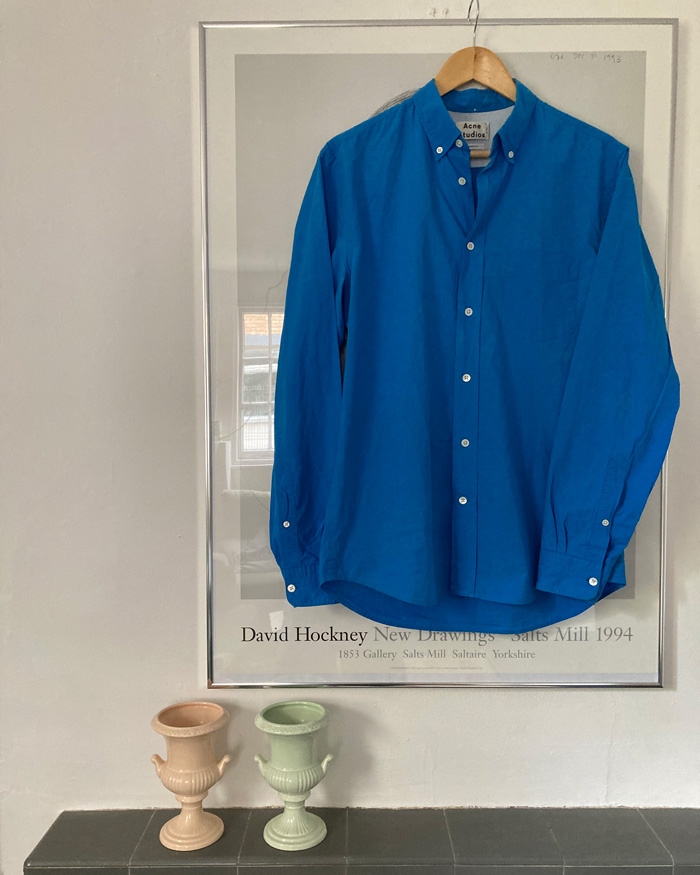 Colin David Stewart shares the story behind his button-down collar shirt.
Colin is a former illustrator and copywriter turned gardener, just coming to the end of a year of training at Cambridge University Botanic Garden, which you can follow on his IG profile @theglasgowgardener.
What garment you've never worn have you chosen from your closet? Can you describe it?

It's a sky blue Acne Studios shirt with a button-down collar.

When did you buy it?

I bought it on eBay a few years ago.

What were the reasons that made you buy it?

I was a fan of the brand but couldn't afford it full price – I think I had a search alert set up for a particular sweater I wanted, and this came up. Blue is my favourite colour.

Do you remember what you felt in the moment you bought it?

I'm sure I felt that initial dopamine high and sense of triumph you get when winning any eBay auction (often quickly followed by buyer's remorse).

Do you consider it an impulsive buy or was it something you thought about for a while?

It was an impulse buy – I think I swooped in right at the end.

Why haven't you worn it?

It's hard to define exactly why because there's a lot I like about it – I think the colour's flattering on me (I'm sure my Mum would say it brings out my eyes) and it's a classic style. There's something somehow corporate about the colour, like I'm in a uniform; I feel like I should be selling something in it. I wear a uniform at work so I want to be free of that feeling outside of it. I also used to wear a lot of oversized Ben Sherman-type shirts as an art student in my early twenties so maybe it feels like too much of a throwback to that. It's curiously difficult to iron too, not that I tend to do a lot of that.

Have you had any moment in which you were about to wear it but then changed your mind?

I remember taking it on holiday to the south of France – I thought the blue would work well in that climate. I remember hanging it up against the whitewashed wall of my room and thinking it looked great, but I still never wore it. I'm Scottish so it was too hot there for long sleeves anyway.

How did you feel when you wore it for the photograph shown here?

As a gardener, I so rarely wear proper shirts these days, so that felt quite strange. I do look at the picture and think it's not really me – I look a bit lairy, though maybe that's no bad thing.

If you haven't worn it, why haven't you given it away for recycling or to be worn by someone else?

I'm sure I've always convinced myself it will be useful on some occasion. When I came to Cambridge last year I left most of my clothes in Glasgow, so I must have thought there was a reasonably high chance I'd wear it. I bought a Comme des Garçons rucksack in an almost identical colour in a sale last year and I use that all the time, so maybe now I have that fix I'm ready to get rid of the shirt.

Do you think you will start wearing it after answering these questions?

Probably not.

What other garments from your closet you've never worn?

Mainly other collared shirts actually. I just prefer how crew necks look on me, and I rarely have any reason to dress formally. A few of the shirts have been bought at the last minute as options before interviews and weddings, when you feel like you have to have absolutely the right thing, and never returned.

What will you do next time you go shopping to prevent a similar situation happening again?

I've managed to wean myself off eBay quite successfully. I think the lockdown in the UK helped to make the whole idea of buying superfluous clothes seem absurd. I've also had little disposable income while training as a gardener and have been trying very hard to live within my means; I prefer spending money on books and socialising.